QLDJ Series Floating Bed Parallel Air Spraying Mill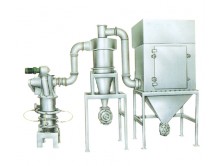 QLDJ Series Floating Bed Parallel Air Spraying Mill
Main Application
The machine is the new generation of super tiny air flow smashing equipment,integrating world advanced multi spray pipe,fluidized bed and horizontal grading technology,and realizing a combined technological system,representing a new trend of air flow mills. The machine can be used not only to make super tiny powder,but also with the features of easy control of particle size,no abrasion pollution, etc.The mill can be widely used for industries such as pharmacy,chemical,metallurgy,electron,plastic, paper making,foodstuff, etc, and some special materials such as polymer material, high grade electromagnetic material, semi-conductor materials and so on.
Characteristics
The machine, with high air flow impact speed, high smashing efficiency, low power consumption and less abrasion, can be used to smash material with high hardness. It is easy to adjust the particle size and easy to operate.The machine is widely applied without much pollution under a closed working condition. With stable and reliable operation,the machine can be used to smash the heat sensitivity materials.
Working Method
The machine is composed of air source, feeding part, smashing part,product grading part and collection part The air source part supplies clean c-ompressed air with certain pressure and airflow,which will form a two-phase flow with the solid flow from the solid particles in the smashing room. The super sound air flow will make the particles hit each other and smash those solid particles,and then the grading part on the top of the machine will release the particles with a certain fineness from the smashing room and then collected and packed by the collection part.
Work flow sketch
Technical Data
Model

Size of input

granule(Mesh)

(d97um)

Product

diameter

(Mpa)

Smashing

pressure

(kw)

Grading wheel

power

(r/min)

Grading wheel

speed

(m3/min)

Air flow

(kg/h)

Capacity

(kg)

Weight

(mm)

Overall size (L×W×H)

(kw)

System total

power

100 型

100

左右

2-80

0.65-0.95

2.2

8800

8-10

10-80

210

860×540×1350

60-80

300 型

2-100

4

8000

10-13

50-250

330

942×612×1438

90-110

400 型

5-120

7.5

6000

20-25

80-500

400

1107×782×1719

160-180

630 型

6-150

11

4000

40-50

120-1000

752

1416×1077×2112

300-360