FH Series Square Cone-shaped Blender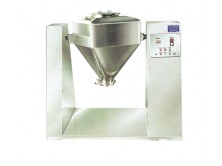 FH Series Square Cone-shaped Blender
Main Application
The machine, as a new blender, is widely applied for such industries as pharmacy, chemical, metallurgy, foodstuff, light industry, fodder, etc.The blender can mix evenly the powders or granules to achieve the best effect.
Characteristics
1) With new design, compact structure and elegant appearance,the machine can mix evenly 99%
with loading ration of 0.8.
2) Low rotary height, stable running, reliable performance and easy operation
3) Polished inside and outside of cylinder wall, no dead corner, easy discharging, easy cleaning
and no cross pollution, meeting"GMP"standard.
Working Method
Put material into the closed cylinder of square cone-shaped blender. With symmetrical axes and rotor being an angle, the different varieties of material are moving three-dimensional ways in the closed blender cylinder, achieving the best mixing effect.
Technical Data
| | | | | | | |
| --- | --- | --- | --- | --- | --- | --- |
| Model | 300 | 500 | 1000 | 1500 | 2000 | 3000 |
| Blending cylinder volume | 300 | 500 | 1000 | 1500 | 2000 | 3000 |
| Max loading volume | 240 | 400 | 800 | 1200 | 1600 | 2400 |
| Max loading weight | 150 | 250 | 500 | 750 | 1000 | 1500 |
| Principal axis speed | 14 | 13 | 12 | 10 | 8 | 6 |
| Motor power | 1.5 | 2.2 | 4 | 5.5 | 7.5 | 11 |
| Weight | 500 | 700 | 1000 | 1500 | 2000 | 3000 |
| Overall size(L×W×H) | 2010×1240×1800 | 2200×1530×2220 | 2800×2000×2820 | 2930×2300×2950 | 3100×2460×3160 | 3350×2820×3800 |