CH Series Trough Shaped Mixer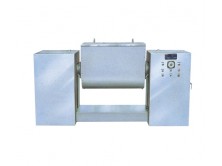 CH Series Trough Shaped Mixer
Main Application
As a stainless steel horizontal mixer, the machine is suitable for the mixing of target materials in powder or paste state evenly in pharmaceutical,
chemical and foodstuff industries.
Working Method
By driving of mechanism of the mixer,the stir paddle turns the target material to and fro to mix it evenly. Electric control is applied to set the mixing time and the mixer will stop automatically when time is up, so as to improve the mixing effect of material.
Technical Data
Model

50

100

150

200

300

400

500

600

Paddle shape

S-style single paddle

Working volume

50

100

150

200

300

400

500

600

Mixing speed

24

24

24

24

24

24

24

24

tir angle

<105

<105

<105

<105

<105

<105

<105

<105

Mixing power

1.5

2.2

3

4

5.5

5.5

7.5

11

Dumping power

0.37

0.55

0.55

0.75

1.1

1.1

1.5

2.2

Weight

280

350

480

550

780

950

1150

1350

Overall size(L×W×H)

1310×400×650

1450×500×900

1550×600×950

1700×600×1020

1850×700×1200

2100×750×1250

2100×800×1300

2400×850×1350