ZS Series High Efficient Sifting Machine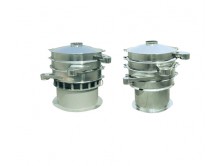 ZS Series High Efficient Sifting Machine
Main Application
The machine is applied for the sorting of the granule size of dry power material in the trades medicine, chemical and foodstuff, etc. And it can sift out the product continuously.
Structural Characteristics
The machine is composed of the vertical vibration motor, a sieve bottom, a mesh frame, sieve room, rubber vibrating bowl and all fastening pieces, etc. It canbe operated for the sorting purpose either in single sieve or multi-sieves with a compact structure, easy operating and repairing, smooth running, low noise, large target material treatment, good fineness and wide applicability, etc.

工作原理:

| | | | |
| --- | --- | --- | --- |
| 原料流动方向 | 重锤夹角 | 特色 | 主要用途 |
| | | 原料系由中心直线流向圆周方向 | 概略分级将易于筛分的原料作大量分级,粗粒的筛分 |
| | | 开始旋涡运动 | 用于一般筛分 |
| | | 最长的旋涡运动 | 精密分级,用于微粉高凝聚性及高含水率之原料分级 |
| | | 原料向中央集中 | 特殊原料 |
Technical Data
Model

400

600

800

1000

1200

(kg/h) Capacity

100-800

200-1500

300-2500

500-3500

800-5000

Number of mesh(Mesh)

2-200

2-200

2-200

2-200

2-200

(r/min) ibration frequency

1500

1500

1500

1500

1500

(kw) Motor power

0.2

0.4

0.75

1.1

1.5

(kg) Weight

200

250

320

420

600

(mm) Overall size(Export)

(L×W×H)

650×500

×800

860×650

×900

1100×850

×950

1350×1100

×1100

1600×1250

×1100