ZSJ Series Vibration Sifting Machine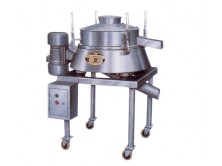 ZSJ Series Vibration Sifting Machine
Main Application
The machine is modified on the basis of MODEL ZS series delaminated sieve,it is suitable for flow line, and is the ideal equipment for sifting out the granules in different size and proportion and for continuously material delivering.
Structure and Characteristics
The machine is composed of the hopper, vibrating motor and bracket. The vibrating motor is fixed on the vibrating tray and is supported on the vibrating rubber bowl, with strong and stable vibrating force, stepless speed regulating, compact structure, small volume, non-dust flying, low noise and high output, low energy consumption, and easy to be moved and maintained.
Technical Data
Model

350

515

650

(kg/h)Capacity

60-500

100-1350

180-2100

Number of esh(Mesh)

12-200

12-200

12-200

(kw)Motor power

0.2

0.4

0.75

(r/min)Vibrating frequency

1450

1450

1450

(kg)Weight

160

240

350

(mm)Overall size(L×W×H)

860×500

×920

1150×600

×1050

1300×750

×1300