YTG Series Movable Lifter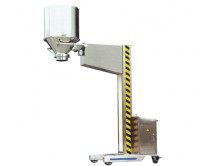 YTG Series Movable Lifter
Main Application
The machine is used to carry, lift and add solid material for pharmaceutical companies. It is also widely used in other industries as chemical, food, light industries and etc. It can be used along with such main processing equipments as Fluid-bed Granulator or Dryer and shift materials to the next processing equipment.
Features
1) It's made of stainless steel. There is no dead angle, no concave-convex face, no screw on surface. It's easy to wash.
2) Especially equipped with cone adapter with sealing set and butterfly valve for the bowl, the dust and cross pollution are well controlled.
3) Tailor-made butterfly valve with no dead angle, no remnant, and appliance against wrong operation is easy to dismantle and wash.
4) There is oil tank equipped to avoid polluting
5) It is the brand-new successfully developed type by our company on the basis of widely researching, absorbing and digesting foreign updated models. It's of reasonable design, compact structure, steady performance, beautiful form, easy to wash. It's in conformity with "GMP" requirement.
Working Method
It consists of fixed chassis, post, hydraulic system, turn over structure, etc. To start to work, cover and bowl with the cone adapter and seal them tightly to form an integrated hopper. Switch on the lifting handle, the hopper is lifted; then switch on the turnover handle, the hopper turns over 180℃.Unfix the skid appliance on the chassis by foot, gyrate to the post horizontally, and fix the outlet of the cone adapter with the inlet of the next processing equipment. Open the butterfly valve on the cone adapter, materials flow out fluently into the next equipment. The lifting height from outlet to the ground is 1.8m and total height is 1.95m.
Technical Data
| | | | | |
| --- | --- | --- | --- | --- |
| Model | 50 型 | 100 型 | 150 型 | 200 型 |
| (kg)Max load | 50 | 100 | 150 | 200 |
| (H mm)Max lifting height | 1800 | 1800 | 1800 | 1800 |
| (H1 mm)Max height point | 2592 | 2741 | 2880 | 3020 |
| (L mm)Post height | 1950 | 1950 | 1950 | 1950 |
| (A mm)Load distance | 425 | 435 | 435 | 435 |
| (kw)Motor power | 0.75 | 1.5 | 1.5 | 2.2 |
| (kg)Weight | 310 | 420 | 510 | 680 |
| (mm)Overall size(L×W×H) | 1400×650×1950 | 1655×750×1950 | 1735×750×1950 | 1800×800×1950 |