FL Series Fluidized Granulator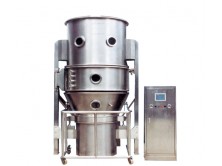 FL Series Fluidized Granulator
Main Application
It is widely applied for the capsules granule, tablets and the herb granule.
Characteristics
Integrated the processing of mixing, granulating and drying, this machine has the features of high automation, quick granulation and quick drying.
Working Method
Mono or multi-kinds of powder materials for granulation are to be fluidized within the fluidized bed and to be mixed, and then the bond agent is to be atomized by the special jet gun and to be sprayed on the fluidized interface. Meantime, the powder material is gradually granulized in dry air and the volatilized water content is discharged by blower fan.
1、料车

2、控制阀

3、初效过滤器

4、亚高效过滤器

5、加热器

6、料液泵

7、引风机

8、消音器
Technical Data
Model

5

15

30

60

120

200

300 型

500 型

Capacity

Min(Group)

4

10

20

40

80

160

250

350

Max(Group)

6

20

40

80

160

250

350

550

Raw material vessel volume

22

45

100

220

420

670

1000

1600

Draught fan power

(kw) Normal

2.2

4

5.5

11

15

22

30

37

(kw) Filter and cyclone separator

3

5.5

7.5

15

18.5

30

37

45

Steam

(m3/min) Consumption

23

42

70

141

211

282

366

450

(Mpa) Pressure

0.4-0.6

0.4-0.6

0.4-0.6

0.4-0.6

0.4-0.6

0.4-0.6

0.4-0.6

0.4-0.6

kw) Electricity heating power(selected by customer)

7.0

12

4.5

21

30

47

70

110

Compressed air

(m3/min) Consumption

0.3

0.3

0.4

0.6

0.8

0.9

1.5

2.0

(Mpa) Pressure

0.4-0.6

(℃) Working temperature

(Room temperature -120℃ auto adjustment)

(%)Water content of product

0.5 (Mini0.5 )

(%)Recycling ratio

≥99

(dB) Recycling ratio

≤70

(mm) Main frame height

2100

2200

2300

3000

3300

3800

4100

4500