GK Series Dry Granulator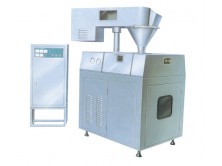 GK Series Dry Granulator
Main Application
The finished granules from this machine can be made into troches or capsules, etc.The granulator is mainly used by the trades of pharmaceutical, chemical, foodstuff, etc, especially suitable for the granulating of those materials that cannot be done by the wet granulating method.
1) Pharmacy: troches, capsules
2) Foodstuff: foodstuff granules, seasoning granules
3) Plastic: all kinds of shaped plastic granules
4) Chemical: granules of activator, pigments and washing agent
Characteristics
The machine, with new and reasonable structure and reliable performance, is used to make granules directly from the target materials with minimum crystallized water, featuring easy cleaning.
1)Even density of dry granules, good disaggregation and high granule ratio
2)Unique feeding structure guarantees efficient material feeding.
3)Circulated cooling water refuses sticky problems.
4)No need of wetting agent or second-time drying, less procedures, high eff-
iciency and low cost.
5)Advanced electric hydraulic pressure, easy to operate with high automation.
6)No pollution due to closed operation, so as to meet the sanitation standard.
7)Especially suitable for the granulating of those material which cannot be done
by wet granulating method.
Technical Data
Model

80

120

200

(kg/h)Capacity

20-100

60-200

100-400

(L)Hopper volume

3

5

8

(mm)Roll size

200×80

200×120

250×200

(T)Max roll pressure

10×2

15×2

25×2

(r/min)Roll speed

2-20 (adjustable)

2-20 (adjustable)

2-30(adjustable)

(rpm)eeding speed

6-60(adjustable)

6-60(adjustable)

6-60(adjustable)

(kw)Roll drive motor

4

7.5

11

(kw)Feeding drive motor

1.5

2.2

3

(kw)Granulating drive motor

1.1

2.2

2.2

(kw)Oil pump drive motor

0.75

1.1

2.2

(Mpa)Max hydraulic pressure

20

30

50

Roll & feeding speed control

Electromagnetic adjusting speed or frequency conversion adjusting

(kg)Weight

2300

2800

3500

(mm)Overall size(L×W×H)

1540×1250×2400

1800×1650×2600

2200×2500×2200