WFM Series Extra Fine Vibrating Pulverizer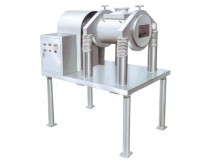 WFM Series Extra Fine Vibrating Pulverizer
Main Application
The machine can effectively crush down any material in fibrin form, high toughness and hardness or material with certain water content. is suitable for the herb processing such as the seed cell wall-breaking, so as to raise the biological utilization rate of herb that can not be acquired by normal way for its fineness.
Characteristics
The machine accepts the optimized vibrating parameter to force the media in the chamber librating and impacting during rotation and revolution of the chamber, which let the material accept positive impact and high strength cutting in high speed and high energy. It has the features of high effectiveness, energy saving, non-pollution and control of impact temperature, as well as the precise mixing, compounding or wrapping operation for two and above materials.
Working Method
As a horizontal vibrating pulverizer, the machine, with cooling water device to control the chamber temperature,utilizes the impact of grinding stick and material that is fed from the hopper to the grinding chamber.The whole machine, designed according to"GMP"standard,is made of stainless steel,and is operated under a closed state,so as to avoid dust flying and environmental pollution.
Technical Data
型 号Model

10 型

50 型

100 型

工作容积(L)Nominal volume

10

50

100

处 理 量 (kg/h)Nominal amount

2-2.5

10-30

20-60

粉碎细度(目)Fineness of products(Mesh)

200-1800

200-1800

200-1800

冷却方式Cooling method

水冷 Water cooling

电机功率(kw)Motor power

1.5

7.5

11

重 量(kg)Weight

380

950

1500

外形尺寸(mm)

(长×宽×高)Overall size

(L×W×H)

1200×800

×1400

1700×900

×1700

2850×1200

×1800