ZS Series Vibrating Screener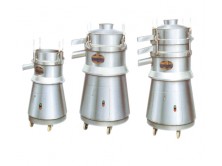 ZS Series Vibrating Screener
Main Application
The machine is suitable for flow operation, and is the ideal equipment for sifting out the granules in different size and proportion and for continuous material delivering.
Structure and Characteristics
The machine is composed of the hopper, vibration chamber, clutch, motor, etc. The vibration chamber is equipped with eccentric wheel, rubber soft pieces, main axis, bearings, etc. When the adjustable eccentric weight passed its gravity to the central line of main axis by the driving of motor to break the balance, then under the centrifugal force, the orbit spire of target material is forced to change its way in the chamber. The size of swing of the weight regulator van be adjusted according to different kinds of target material or the number of mesh. The whole machine has the specialties of compact structure, small volume, non-dustflying, low noise and high output, low energy consumption, easy to be moved and maintained.
Technical Data
Model

350

515

650

(kg/h)Capacity

60-200

100-500

180-1000

Number of esh(Mesh)

12-200

12-200

12-200

(kw)Motor power

0.55

0.75

1.50

(r/min)Speed of principal axis

1380

1370

1370

(kg)Weight

180

260

380

(mm)Overall size(L×W×H)

640×640

×1060

710×710

×1290

880×880

×1350