CT、CT-C Hot Air Circulating Oven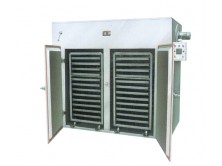 CT、CT-C Hot Air Circulating Oven
Illustration
1)Heating method: steam, electricity, infrared, steam & electricity, available for customer's choice.
2)The using temperature: steam heating 50-140℃, Max.150℃.
3)Electric infrared heating: 50-350℃.
4)Commonly used steam pressure 0.02-08Mpa(0.2-8kg/cm2).
5)If the electrical heating and type one, the calculation is 15kw,and the practical use is5-8kw/h.
6)The special requirements should be indicated at the time of order.
7)When the using temperature higher than 140℃ or lower than 60℃, should be inducted at the time of order.
8)The ovens and baking plates made by our factory are uniform in the dimensions, and can be exchangeable.
9)The baking plate dimensions: 460×640×45(mm).
Features
1)Controlling cabinet equipped with button(or touch screen option-al),easily operation and prolongs service life.
2)Most hot air is circulated in the chamber which ensures high heat-ing efficiency and saves energy.
3)Forced ventilation used, adjustable air distributing board in the chamber makes evenly drying of material.
4)The machine is low noisy, smooth operated, temperature auto con-trolled and easy for maintenance.
5)Widely applied. Suitable for versatile materials and is universal dry-ing machine.
6)Initial and medium effective filter can be added in the air inlet and outlet as requested by customer. Application This drying oven is suitable for the material and for solidification and drying dewatering in the pharmaceutical, chemical, food, farming, aquatic product, light and heavy industry as well as other industries. Such as:raw material medicine, crude drug, prepared herbal medicine of CTM, plaster, powder, particle, drinking agent, pill, packing bottle, pigment, dyestuff, dewatering vegetable, dried fruit piece, sausage, plastics, resin, electric-component, baking varnish and etc Technical data
Technical data
Fittings
No
Model
YY0026-90 YY0026-90
(m2) Steam area
(m3) Volume available
Drying quan tity each time (Group)
(m2) Heat radiator area
(kg/h) Steam consumption
(kw) Heat power
m3/h) Blower strength
(℃) Temp difference inside chamber
(mm) (长×宽×高) Overall size ( L×W×H)
Baking cart(Set)
Baking tray(Pcs)
Temp control cabinet
(kw) Blower power
(kg) Weight
1
CT-0
RXH-7-B
7.1
1.3
60
15
15
6-9
1417
±1
1050×1600×2100
1
24
NO
420
1.1
2
CT-I
RXH-14-A
14.1
2.5
120
20
20
15
1417
±3
1050×2700×2430
2
48
NO
840
1.1
3
CT-I
RXH-14-B
14.1
2.6
120
23
20
15
1417
±2
2430×1200×2430
2
48
NO
920
1.1
4
CT-Ⅱ
RXH-27-B
28.3
4.9
240
48
40
30
5230
±2
2430×2160×2625
4
96
NO
1588
1.1
5
CT-Ⅲ
RXH-41-B
42.4
7.4
360
72
60
45
9800
±2
3420×2160×2670
6
144
NO
1900
2.2
6
CT-Ⅳ
RXH-54-B
56.5
10.3
480
96
80
60
9800
±2
4360×2160×2670
8
192
NO
2300
2.2
7
CT-C-O
RXH-7-C
7.1
1.3
60
15
15
6-9
4510
±1
1410×1200×2140
1
24
YES
480
0.45
8
CT-C-I
RXH-14-C
14.1
2.6
120
18
20
15
4510
±2
2250×1200×2160
2
48
YES
1080
0.45
9
CT-C-Ⅱ
RXH-27-C
28.3
4.9
240
40
40
30
9020
±2
2250×2160×2160
4
96
YES
1520
0.45×2
10
CT-C-Ⅲ
RXH-41-C
42.4
7.4
360
80
60
45
13530
±2
3290×2160×2200
6
144
YES
1960
0.45×3
11
CT-C-Ⅳ
RXH-54-C
56.5
10.3
480
100
80
60
18040
±2
4360×2160×2270
8
192
YES
2400
0.45×4