LPG Series High Speed Centrifugal Spray Dryer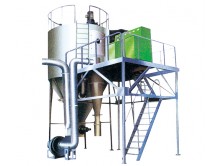 LPG Series High Speed Centrifugal Spray Dryer
Main Application
This dryer is specially designed for latex, suspending liquid, mash, liquor etc, especially in polymer and colophony; dyestuff, paint; porcelain, glass; deruster, helminthic; carbohydrate, dairy products, scour; compound fertilizer, organic compound, inorganic compound and so on. Features
1) Rapid dry, only takes 5-15 seconds.
2) The materials completes process of fully dry in a short time, that suits for the heat sensitive materials.
3) Simplify the production process, easily operation.
4) The finished products is of good dispensability, fluidity. Working Method The air passes through air filter and heater to air distributor on the top of dryer. Hot air flows into dryer smoothly in a spiral way. The material are driven to the centrifugal sprayer in the top of dryer by pump. Hot air and material mixes with each other. Moisture evaporates rapidly. And material becomes dry in a short time and takes out through cyclone separator. Technical Data


工艺流程简图



Technical Data
Model
5
25
50
150
200-2000
Outlet temp
140-350(Self control)
Outlet temp
80-90
Max moisture evaporated
5
25
50
150
200-2000
Transmitting form of spray head
Driven by compressed air
(Mechanical drive)
Max revolving speed
25000
18000
18000
16000
8000-15000
Dia of spray plate
50
120
120
150
180-240
Heat source
Electricity
Steam +electricity9
Steam & electricity, fuel, gas and hot air oven
Max power of electrical heating
9
36
72
99
(m)
4×2.7 ×4.5
7×5.5 ×7.2
Decided according to real situation
Dry starch collected
≥95
Note: The moisture evaporation is related to material features as well as temperature of inlet and outlet. When the outlet temperature is 90℃, please check the curve above (models applied for reference). With the development of new products, the alteration of related data shall not be informed to customers.