SXH Series Three-direction Rotary Blender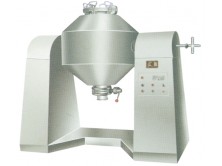 SXH Series Three-direction Rotary Blender
Main Application
1) Wide usage: Applied not only for the blending of normal materials, but also for the blending of materials with high oil and sugar content, high viscosity, explosive and soften or solid material with temperature in-crease, such as medicine, powder pigments, food additive, etc. The ma-chine can also be applied for the production line.
2) Multi mixing ways: Normal blender has only one driving structure and one or two mixing ways. The machine adopts 3 sets of driving structure and several mixing ways going on simultaneously. Frequency changer or speed controlling motor can be added.
3) Good efficiency: In 1m3 blender, 460kg of light color static powder dope or 500kg of art powder, with tiny quantity of pigment.
4) Easy to clean: no dead corner in the container, uneasy to stick. Easy to dismantle and clean as well as feeding and discharging
5) Big capacity: 1m3-8m3, material of 50-4000kg
1.出料粒子
2.电机
3.三角皮带
4.斜板及套
5.蜗轮箱
6.轴承座
7.活动轴
8.手轮
9.空心轴
10.轴承
11.蜗轮
12.密封件
13.机壳
14.匙子
15.进料口盖
16.匙子及套
17.法兰及套
18.瓦座
19.轴瓦
20.电机
21.法兰
22.机架
Technical Data
Model

Mixing time

Power

Mixing weight each time

Overall size (L×W×H)

Loading ratio

Medicine or foodstuff additive

Additive, power

1000

8-12

11.5

50-500

100-500

2×1.5×2

10-80

2000

12-15

13

100-1000

200-1000

2.5×1.7×2.3

10-80

4000

15-20

28

200-2000

300-2000

3×2×2.5

10-75

6000

20-30

32

300-3000

400-3000

3.3×2.2×2.8

10-75

8000

30-40

37

400-4000

500-4000

3.6×2.5×3.3

10-70